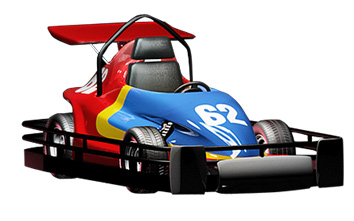 GOKARTS NIAGARA
Reservations are not required or taken unless you have 20 or more people. You will recieve a confirmation email with your tickets to be used at your convience during operating hours.
OUR HALF SCALE FORMULA-1 GO-KART IS THE ONLY ONE OF ITS KIND IN THE WORLD
Feel the adrenaline pumping, while riding side by side, drifting through the banked corners of one of North America's fastest tracks. For your safety, all go karts are equipped with roll bars and seatbelts.
VISITORS TO NIAGARA: Don't have access to a printer? Just bring in your I.D. and we can reedem your order for you.
Free Parking


Ticket pricing is per kart and cannot be split between 2 or more karts
Our tickets make great gifts for all occasions, and have no expiration date.